Temagami Land Claim
This page was posted by Robert Sewell on Monday, March 3, 2003;
and was last modified on Friday, April 4, 2003.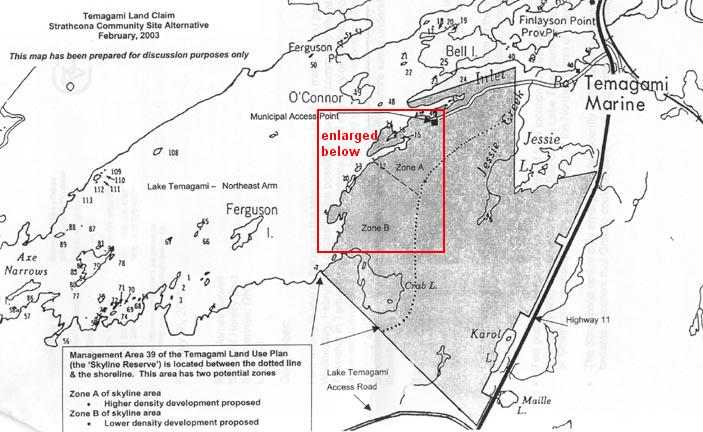 This map of the Temagami Land Claim Strathcona Site was received as an attachment to a letter
from Mr. Doug Carr dated February 26, 2003.
The following enlargement illustrates the terrain over a small portion of the proposed site extending from the waters edge approximately 400 metres inland. I have wandered around this area for the past thirty years during the late spring, summer and early autumn, and I would describe this area as having many small swampy sections with rough, steep rocky sections between the wet areas.

I am familiar with only a small portion of the proposed settlement area, but I have no reason to believe any of the area is any "better" than this part.

This part appears to be entirely unsuitable for development. Many small rocky areas are not shown on this map and only the main large swampy areas are shown. The steep slope can be seen from the lake.

Long time resident Mr. Len Cunningham, a prospector from Kirland Lake, describes the area as "very rocky - much bedrock with a thin impermeable soil cover - very irregular relief with swamp between outcrop areas. A difficult and costly area to develop. Poorly drained"

It is very difficult to imagine how sewage and grey water from any dwellings would be dealt with. Removing waste by truck or barge would be costly.
My purpose in posting this page is to illustrate the rationale behind my request for conducting a full environmental assessment or review before this proposal goes any further.
Please contact Robert Sewell
(please type "Temagami" in the subject line of a letter or email)