Proposed Settlement in Strathcona Township
North East Arm of Lake Temagami
Map from Ontario Native Affairs Secretariat
http://www.nativeaffairs.jus.gov.on.ca & http://www.aboriginalbusiness.on.ca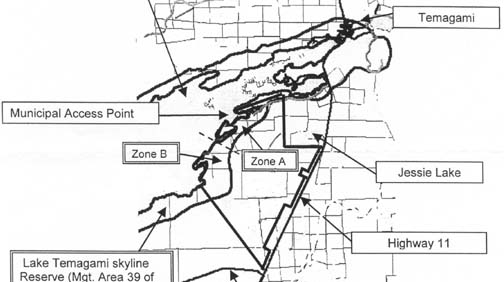 ---
Map Copied from Topographical Map 31 M/4
"Zone A" is for "Higher density development", and "Zone B" is for "Lower density development".
It is unclear where the dividing line between Zones A and B is.
There are many small poorly drained areas best described as "swampy" in nature.
Other areas consist of relatively steep slopes and rocky outcrops.
A thorough environmental study should be done before development proceeds in this area.
---
On a telephone conference call on Wednesday, February 5, Mr. Doug Carr, Director of the Ontario Native Affairs Secretariat stated that the following "hurdles must be cleared" prior to development proceeding:
Mining rights will be bought by the Province of Ontario.
Engineers will look at the area and, as Mr. Carr stated, "poke holes in the ground" to ensure the area is suitable for development.
Municipal standards will be negotiated. These will hopefully be equivalent to the standards of the Municipality of Temagami.
Native people must want to settle in this area. Is is better than Shiningwood Bay?
Negative impact on persons already in the area will have to be minimized.
These "hurdles" will have to be "cleared" during the spring of 2003 for the development to proceed.


The purpose of this page is to raise the question of environmental concerns.
Is there sufficient time to evaluate this area?

Be sure to visit more Sewell Pages.